How to design a wedding stage
Time:1420514006
Editor:admin
How to design a wedding stage?
Want to design a special wedding stage by yourself? The portable stage is the best choice for you!

The portable stage is a new style mobile stage. Comparing with the traditional aluminum stage,the portable stage is lighter and easier to assemble. More important,the portable stage is much cheaper than the aluminum stage! Because of the advantages of the portable stage,the portable stage is used for the small stage events such as wedding,band show,school and so on.

If you want to build a wedding stage by yourself,what you need to prepare are portable

stage platforms

and portable

stage risers

.

Step 1:
Unfold Portable Stage Risers and Place the Stage Platform on Risers
Step 2:
Remove the enclosed hex key from the portable stage platform and lock the stage platform and riser together

Step 3:
Align portable stage decks

Step 4:
Lock the same height stage platforms together

Step 5:
User riser clamps to lock risers

Step 6:
Stacking riser for greater heights using stacking kits

After all these steps,you can get a durable portable stage.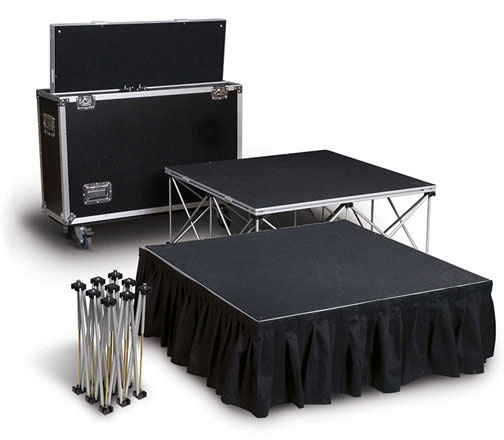 Now,you can decorate your wedding stage! A white and beautiful backdrop is necessary for a wedding. The flowers and the balloons are the best choice for decorating the wedding stage. After all these steps,you can get a special and beautiful wedding stage!